Apologies in advance
Once again my updates have been reduced to one every never. I aim to change that and over the next few days/weeks/months I will be moving away from Tumblr and setting up a proper blog, which I'll hopefully be able to set up to cross post to here, although if not then I'll be doing it all manually. Training has been going okay, only okay though, there's been some big changes in my...
1 tag
First update of 2012
Thankfully my riding has been more regular than my postings on here. I apologise to all of those who give a shit about my lack of writing here, although I'm sure that's very few of you. I did write a post a few weeks ago but I just never got round to posting it…  So what to write… training has been going okay. The whole three on one off thing didn't really work,...
Winter training specifics
A friend of mine was asking about my winter training, and I told him i'd go into more detail than I did in my last post so I thought i'd explain some of my intentions. As I said previously, I spoke to Tony at flammerouge.je and he gave me a free 8 week training plan, and I've also spent some time looking at the other pages on his website which is what gave me the three on one...
1 tag
Winter training
Something which is really all over the place in terms of thoughts is winter training. They all boil down to the same thing really, which is take it easy over the winter, and then start to ramp up the intensity a few months before your "season" starts. There's the classic "base miles" train of thought, do loads and loads of long slow miles to keep your legs ticking...
1 tag
My Tour De Algarve
For convenience I've added anchors at the beginning of each day so you don't have to read the whole post at once. Day One | Day Two | Day Three | Day Four. The title of the day also includes a link through to the Strava ride, feel free to check them out while reading so you can get the full experience. Day One Day one started with a very early rise, 3:45am for me, I had packed all my...
last of the summer weather
It's always nice getting out on the bike, (okay, except when it's raining), let me start again… it's usually nice getting out on the bike, except when it's raining, and Saturday was no exception. Boom, intro done, time to get into the details. I found myself waking up at 6:10, 10 minutes late already, nuts. I threw down a mean bowl of porridge, got all my shit together,...
1 tag
A long overdue update
Firstly, I should apologise, I haven't written here for a while because I've not had much motivation to, I haven't had much motivation to ride in fact, it lost that "spark" as summer ended and I looked back at the last few months and realised I haven't ridden nearly as much as I wanted to. June was good, 700km, July, 388km… Practically half, which...
Ramblings of a bored train passenger
As I look out of the window of my train the fields around Backwell look rather peaceful, there doesn't seem to be ay wind in the air what so ever, and apart from the soaking wet floors and the rather angry looking clouds, I'd have said it's perfect riding weather. The only issue I have of course is that due to my crash last month I now don't want to ride in the rain, ever....
Passion
This is a topic which has been on my mind for a while now. It's one which I think people will be able to relate to easily, because it's the reason why I enjoy cycling so much; passion. I am passionate about cycling, although I don't ride anywhere near as much as I should, or as much as I'd like to, the weather was gorgeous last night but I went to bed at 10pm instead of...
My Retül bike fit
After wanting one for a long time, my parents were kind enough to pay for me go have a bike fit done as an early birthday present. The fit took place at Bike Science in Bristol, and I'm going to give a short run down of how it went. I arrived at around 8:50 and had no idea where I was going, a quick walk around the little car park and I saw the sign above the door, so knew I was in the...
1 tag
In search of a goal
Something I'm missing when it comes to my "training" (if you can call riding 25km every few nights as fast as I can training) is a goal. The plan last year was to use this year to start racing, the issue there is after riding at Ilton once and getting dropped within half a lap, I decided 2 things: Firstly, I don't like that circuit very much, secondly, there's no...
1 tag
My first crash
Friday wasn't a good start to the weekend. There are so many things I keep thinking about that were different from my usual routine, or ways I could have skipped riding. The first way I could have got out of it is typical me at the moment, as for some reason I'm all over the place. I left my laptop charger at work and was going to drive up to Bath to get it, instead my sister said I...
1 tag
A week away
The weather. It can be a wonderful thing at times, as I look out of the train window I see fields on either side covered in a layer of mist, this train journey is absolutely wonderful at times like this, going past gorgeous scenery, houses dotted around here and there with horses coming into view every few minutes. But at the other end of the scale, it can be so disgusting at times, it makes you...
1 tag
Finding my place
I have finally found a group I am comfortable going out with. I have only been out with them twice so far but it is always so much fun, the routes are enjoyable, there's a nice mix of hills and flat stuff, and for some reason I'm already considered one of the strong riders and have mixed into a group which has riders of a similar ability. Most of them are stronger than me, but I can...
Somerset 100
My day started out like most other cyclists, up at 6:30am to get some breakfast down my neck. I had put my bike in my car the night before so all that was left to do was fill up my bottles which I had prepped, assess the weather and dress accordingly, and leave. As always I chose arm warmers and vest base as opposed to long sleeve base, I've already worked out that 90% of the time...
The art of leg shaving
I got asked a question on my personal blog yesterday about leg shaving, "I just wondered how long you'd been riding before you started shaving your legs, how much of a difference it actually makes, and what you think about it." I answered it on my blog and got quite a bit of feedback about it, in reality it boils down to three, maybe four things, I'll write them in order...
My facebook →
I'd quite like to have some people on my facebook who I can talk to about cycling, if you want to add me feel free, we can talk about training, our favourite riders, all sorts of shit. And then if you want to talk about something other than cycling, we can do that too.
l'écoulement
I wanted to rename my blog to something more cycling related. I wanted it to capture the essence of cycling, and still be a nice sounding word. Blogs like Ecyclista, Velominati, le grimpeur, etc. all have wonderful names, cycling related names. There's Cadence, the store/clothing company, morvélo, the clothing company, and they are all cool, catchy, nice names. Then you have the cycling...
l'écoulement
I've changed the name of the blog. It will all make sense eventually.
So today I bottled it
I was supposed to travel down to Glastonbury to ride the BHF 50 miler. I went out last night and stocked up on stuff to eat while riding, packed all my shit into my car, had a nice early night, then woke up this morning and saw the weather… My road was wet, but it wasn't raining, but the wind was absolutely nuts. I decided to go back to sleep instead, and left messages on facebook for...
A welcome change
So I've decided to move this blog over to Tumblr, because I already have an account here and it's more likely that I'll update it if it's here. I've used a variant of my current theme but if I have the time and inclination I'll modify it a bit more, there are some things I want to do but at the moment it'll suffice. It's been a long time since my...
Finding my form (Apr 04, 2011)
It finally feels like I'm coming into form. A few weeks ago I did my first ever metric century, and it was absolutely brilliant. (That's not strictly true, I did one last year on the charity ride I took part in but my Garmin was broken so I'm counting this as my first one). Riding with other people always give me so much confidence, while I'm no Andy Schleck, I can hold my...
The (dis)advantage of youth (Mar 15, 2011)
As soon as I start to feel slightly disheartened about my performance last weekend I have to remember that cycling is a sport in which you can be competitive for quite a long time. I'd have said the majority of the guys I was racing against on the weekend are "family men", by that I mean they have a wife, children, and cycling is an escape from that family life, they've been doing it a long time,...
Unbreakable... Kinda (Mar 12, 2011)
So today was my first ever race. It took place at Merryfield Airfield, which is between Taunton and Yeovil in a little town called Ilton. I woke up about 7:15 which is the time I usually wake up for work. After finding out last night that the race started at 12, not 11, I thought i'd treat myself to an extra hour in bed, what felt like a few minutes turned out to be an hour, so I decided to...
Slow training (Jan 30, 2011)
Since my last update things haven't gone quite as planned. The four day training weeks turned into three day weeks, and this week for the first time since I started my winter training, I've only done 2 sessions. There are a number of things that have caused that, the main one is my emotions being up and down due to a stressful relationship, I hope to get all that sorted as soon as...
A lethargic week (Jan 12, 2011)
I can't be the only one who has problems with motivation. The last two months have been fine, every day I have wanted to ride it's been simple, eat plenty during the day, have a nice dinner, and a few hours later, jump on the bike. But this week was different, Tuesday was great, I'd gone back to Angels again, which was the first workout I did, and comparing my times I was much...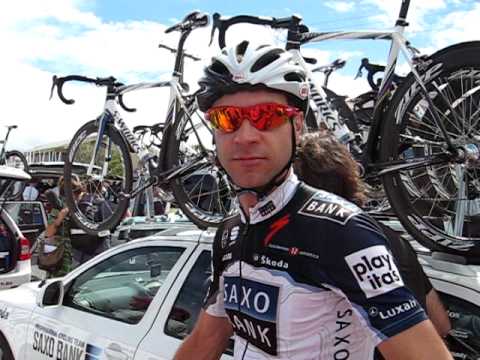 Tis the season to be lazy (Dec 28, 2010)
Every year Christmas comes around, and every year people know that they're going to eat more food than usual, drink more booze than usual, be less active than usual. Inevitably they put on weight and the problem that the weight doesn't disappear as easily as it is put on starts to arise, in fact, from what I'm told, it takes a lot of hard work to get that weight to go again, and...
It always starts the same (Dec 19, 2010)
You set it all up, bike securely in turbo, check, resistance set, check, fan turned on, check, headband on, check, video running, check, lets rock. You start turning the pedals and it's "Oh my GOD my legs feel heavy!". It's the same every single time, I don't know what I can do to change it, but it happens every single time I get on the turbo. A few minutes later,...
Let the winter training commence... (Dec 13, 2010)
Last winter I tried to follow a training guide called The Black Book, by Pete Read. It's a very specific training plan, that requires you to do quite a lot of hours in the saddle, for which the rewards will come around the middle of the season. I found I couldn't dedicate that much time to my training, as much as I wanted to, due to work, travelling, and the fact I'm a big...
A brief introduction and welcome (Dec 13th, 2010)
Welcome to my latest corner of the internet, it's one of many, however this one I plan to use as a place to post a diary of sorts about my cycling, be it training, racing, or sportives.  For those who don't know (although I'd imagine if people are reading this they've come from my FB, Tumblr or Twitter so they should know all this) my name is Jon MacKinnon. I'm 23...